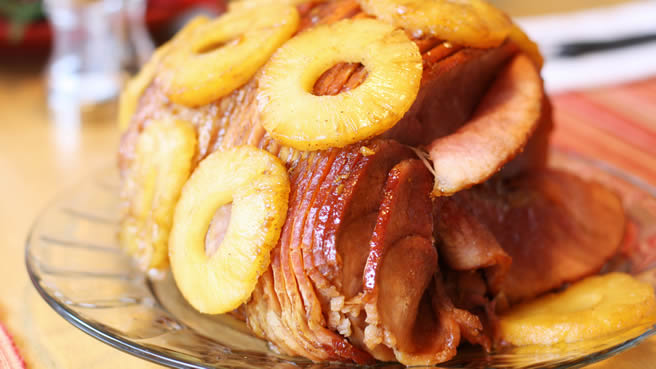 It's only 2 weeks until Easter so call Tammy at Johnston's Custom Cutting (604) 824-1985 to get your hams for Easter Dinner!
Tangy Honey Glazed Ham
Recipe courtesy of allrecipe.ca
Ready In: 3 Hours
Servings: 20
"I came up with the glaze for this ham using ingredients on hand and it's the best I've ever tasted. This ham is very nice served with scalloped potatoes, creamed peas and biscuits."
Ingredients:
1 (10 pound) fully-cooked, bone-in ham
1 1/4 cups packed dark brown sugar
1/3 cup pineapple juice
1/3 cup honey
1/3 large orange, juiced and zested
2 tablespoons Dijon mustard
1/4 teaspoon ground cloves
Directions:
1. Preheat oven to 325 degrees F (165 degrees C). Place ham in a roasting pan.
2. In a small saucepan, combine brown sugar, pineapple juice, honey, orange juice, orange zest, Dijon mustard, and ground cloves. Bring to a boil, reduce heat, and simmer for 5 to 10 minutes. Set aside.
3. Bake ham in preheated oven uncovered for 2 hours. Remove ham from oven, and brush with glaze. Bake for an additional 30 to 45 minutes, brushing ham with glaze every 10 minutes.