| | |
| --- | --- |
| BCAA Board of Directors | April 15, 2014 |
The Board of Directors from the BC Association of Abattoirs proudly presenting BC Meats for BC Markets.
From left to right:
Ken Falk – Fraser Valley Specialty Poultry – Yarrow (formerly FV Duck & Goose)
Bonnie Windsor (Vice President) – Johnston's – Chilliwack
Mike Noullet (President) – Kawano Farms – Prince George
Richard Yntema – Valley Wide Meats – Enderby
Dave Fernie – Rodear Meats – Williams Lake
Jacques Campbell – Campbell Farm – Saturna Island
| | |
| --- | --- |
| Province – For local chefs, B.C. beef is just a click away | April 15, 2014 |
Local beef is now a click away for B.C. chefs, thanks to a new website that allows them to select a nearby farm and arrange for slaughter, cutting and pickup in one step.

What used to take hours of research, long phone calls and detailed co-ordination can now be done in minutes at bcbeefnet.ca, explained Gillian Watt, program manager with the B.C. Association of Abattoirs.

On the website, chefs are invited to select a local farm, designate an abattoir and outline how they'd like their meat cut. The products are guaranteed to be 100-per-cent B.C. beef.
To read the entire article by The Province's Glenda Luymes, click here
| | |
| --- | --- |
| Easter Hams – Stout-Glazed Ham Recipe | April 14, 2014 |
It's only 1 week until Easter so call Tammy at Johnston's Custom Cutting (604) 824-1985 to get your hams for Easter Dinner!
Stout-Glazed Ham
Recipe courtesy of recipe.com
Servings: 14
Prep Time: 15 mins
Ingredients:
1 5-6 pound cooked bone-in ham
cloves
1/2 cup Irish stout (such as Guinness), apple cider, or apple juice
1/4 cup honey
1/4 cup butter
6 small parsnips, peeled and halved lengthwise
1 pound red boiling onions, peeled* and halved, and/or medium red onions, quartered
Directions
1.
Preheat oven to 325 degrees F. Score ham by making diagonal cuts in fat in a diamond pattern. Stud the ham with cloves. Place ham on a rack in a shallow roasting pan. Insert a meat thermometer into thickest portion of the ham. (The thermometer should not touch bone.) Bake for 30 to 60 minutes or until thermometer registers 120 degrees F.
2.
Meanwhile, for glaze, in a small saucepan, combine stout, honey, and butter. Bring to boiling; reduce heat. Simmer, uncovered, for 10 minutes. Set aside.
3.
In a small skillet, cook parsnips in a small amount of boiling water for 5 minutes; drain. Arrange parsnips and onions around ham. Pour glaze over ham and vegetables. Bake for 45 to 50 minutes more or until thermometer registers 140 degrees F and vegetables are tender, spooning pan juices over ham and vegetables once. Remove roasting pan from oven.
4.
Transfer ham and vegetables to a serving platter, spooning some of the pan juices over vegetables. Makes 14 servings.
Make Ahead Tip:
Prepare glaze as directed; cool. Transfer to an airtight container and refrigerate for up to 24 hours. Before glazing the ham, transfer the glaze to a small saucepan. Cover and cook until heated through. Pour over ham and vegetables as directed.
Note:
To peel boiling onions, in a medium saucepan, cook onions in boiling water for 30 seconds; drain. Rinse with cold water; drain again. When cool enough to handle, cut a small slice from the root end of each onion. Squeeze from the other end to remove the onion from the peel.
| | |
| --- | --- |
| BC Beef Network | April 11, 2014 |
The B.C. Association of Abattoirs is currently working on a project entitled "Beef Net". This program will be an online ordering tool for chefs, grocers, and retailers; allowing them to log onto the "Beef Net" website and choose local beef producers and abattoirs. Each beef producers will have a "story" outlining themselves and their animals, it will have details of the aspects that set them apart from other producers such as: Organic certification, Hormone Free, Antibiotic Free, etc. Each producer will be a certified B.C. Beef producer which will allow anyone who purchases their beef to promote the product as such (Please see the Certified BC Beef Logo above). Once a producer and abattoir team has been chosen, chefs, grocers, and retailers will have the ability to select specific cutting instructions for their purchase. Whether this is cutting instructions for a restaurant setting or a grocery store, the online ordering tool will send out a price quote prior to the shipment being sent. For chefs their price list will be specific outlining a cost per serving for each cut. For grocers and retailers a cost per primal will be outlined. For more details about how this program will work, please click on the links below.
Certified BC Beef Brochure Pamphlet
BC Beef for BC Grocers Pamphlet coming soon
| | |
| --- | --- |
| Fraser Valley Food Truck Festival | April 8, 2014 |
Fraser Valley Food Truck Festival
April 12, 2014 (11am -7pm)
Admission is $2 at the door
20 Different food trucks, Beer Garden, Live Music & Family Fun Activities!

Jason Layton and his Poomba's Smokehouse will be one of 20 food trucks at the Fraser Valley Food Truck Festival at Chilliwack Heritage Park on April 12.
— image credit: JENNA HAUCK/ PROGRESS FILE
It's going to be a great way to experience the whole food truck phenomenon in the 'Wack next month.

The first Fraser Valley Food Truck Festival is Saturday, April 12 at Chilliwack Heritage Park with a focus on food, live music and family fun.

So far there are about a dozen trucks signed up, said organizer Laine Ogilvie, an event planner from Maple Ridge.

She's hoping to have 20 trucks on display by the time the festival starts, and they're offering admission for a toonie.

"It's a festival for food trucks, and a gathering for foodies and families."
by Jennifer Feinberg – Chilliwack Progress
To read the full article, click here.
| | |
| --- | --- |
| Easter Hams! | April 7, 2014 |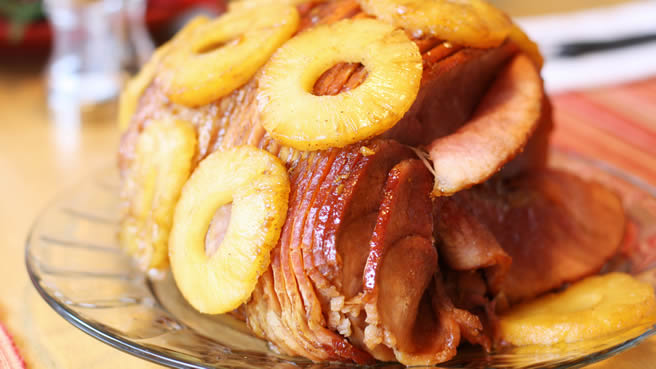 It's only 2 weeks until Easter so call Tammy at Johnston's Custom Cutting (604) 824-1985 to get your hams for Easter Dinner!
Tangy Honey Glazed Ham
Recipe courtesy of allrecipe.ca
Ready In: 3 Hours
Servings: 20
"I came up with the glaze for this ham using ingredients on hand and it's the best I've ever tasted. This ham is very nice served with scalloped potatoes, creamed peas and biscuits."
Ingredients:
1 (10 pound) fully-cooked, bone-in ham
1 1/4 cups packed dark brown sugar
1/3 cup pineapple juice
1/3 cup honey
1/3 large orange, juiced and zested
2 tablespoons Dijon mustard
1/4 teaspoon ground cloves
Directions:
1. Preheat oven to 325 degrees F (165 degrees C). Place ham in a roasting pan.
2. In a small saucepan, combine brown sugar, pineapple juice, honey, orange juice, orange zest, Dijon mustard, and ground cloves. Bring to a boil, reduce heat, and simmer for 5 to 10 minutes. Set aside.
3. Bake ham in preheated oven uncovered for 2 hours. Remove ham from oven, and brush with glaze. Bake for an additional 30 to 45 minutes, brushing ham with glaze every 10 minutes.
| | |
| --- | --- |
| Johnston's April 2014 Recipe – The Hog Shack | April 3, 2014 |

Click on the above image for larger view

HOG SHACK COOKHOUSE
160 – 3900 Bayview Street
Richmond B.C. V7E 4R7
604.272.7264
info@hogshack.ca
| | |
| --- | --- |
| Our Food: B.C. Agriculture-Campaign Launch | April 2, 2014 |
"Our Food: Celebrating B.C. Agriculture" has been published today in The Province and the digital campaign launched online at www.bcagriculturenews.ca!
To read the full article, "Meet the farmers behind your food" featuring Johnston's Producer, Chad Goertzen of Sundance Farms, click on the image below.
Support Fresh, Local, BC products!
| | |
| --- | --- |
| New Classes with Chef Rob Reinhardt | April 1, 2014 |
Need some grilling lessons? BBQ season is coming; learn how to be a Super Star this summer!
One of the top BBQ Competitors in Canada and the #1 rib cook at the PNE Ribfest is back to show us how it's done. Rob will give up all of his tips, tricks and secrets for the very best BBQ Chicken you have ever had along with his signature almost-fall-off-the-bone BBQ ribs. Whether you are cooking over gas, propane, charcoal or wood – Rob will make sure you leave this class with tons of confidence to make some killer food at home on your own grill. And…as an added bonus one of Prairie Smoke & Spices signature desserts – bacon wrapped, stuffed pineapple spears. Yes, bacon!
For more information, click here.
Join us for a half day of instruction and some awesome food. This class is targeted at the beginner through intermediate BBQ'er, and we will learn all about true, low 'n slow, Southern-style Barbecue. This is a competition-themed class, so whether you're interested in competing or are a seasoned veteran looking for a few "nuggets", this is your class. We will be cooking throughout the class and we will have our award winning food for you to try.
For more information, click here.
| | |
| --- | --- |
| April Fools' Day Fact | March 31, 2014 |

Photo credits & Candied Bacon Ice Cream Recipe: bloatalrecall.blogspot.ca
Did you know…?
Bacon ice cream (or bacon-and-egg ice cream) is a modern invention, generally created by adding bacon to egg custard and freezing the mixture. The concept of bacon ice cream originated in a 1973 sketch on the British comedy series The Two Ronnies as a joke; however, it was eventually created for April Fools' Day. Heston Blumenthal experimented with the creation of ice cream, making a custard similar to scrambled eggs then adding bacon to create one of his signature dishes. It now appears on dessert menus in other restaurants. (Credits to wikipedia)
Happy April Fools' Day!